Click 
here
 to read the conference highlights: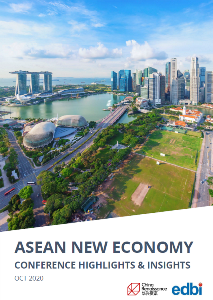 In partnership with China Renaissance, a leading investment banking, securities and investment management firm, EDBI co-hosted the inaugural ASEAN New Economy Conference 2020. This conference is timely as we find ourselves at the intersection of historical events, which will test how investors and companies identify opportunities in midst of chaos. Geographically, the importance of the Southeast Asia region has grown significantly in recent times to rank third globally today in terms of GDP and population size even as we reimagine our role and relevance in a polarized world. Digitalisation and fintech will also grow in importance. With a rising middle class, high internet and smartphone penetration as well as rapidly increasing e-commerce spending, ASEAN's new economy is poised for exponential growth in the coming years.
Select EDBI portfolio companies, partner funds and prominent Chinese investors shared their views and insights on topics covering e-commerce, fintech, logistics and healthcare. We look forward to continuing conversations beyond the conference and pave the way for more collaborations.