The Perks of Investing in Real Time Data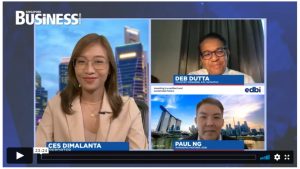 A video interview by Singapore Business Review, featuring:
~ Deb Dutta – General Manager, Asia Pacific and Japan of DataStax
~ Paul Ng – Managing Partner, Investments of EDBI

Learn from Deb and Paul as they share insights on how real time data applications can help organisations innovate and adopt next generation technologies to build a smarter Singapore. (Approx. 20-min video)
Key highlights:
~ Why should any company consider investing in real time data?
~ What is the key challenge in getting the full potential value of data?
~ What is the future of real time data?
~ EDBI's perspectives as a strategic partner and how we empower enterprises like DataStax in their growth journey