The Sustainable Recipe to Feed the World
Dive into China and Southeast Asia's agrifood landscape, and what the future holds.
Jointly written by Bits x Bites and EDBI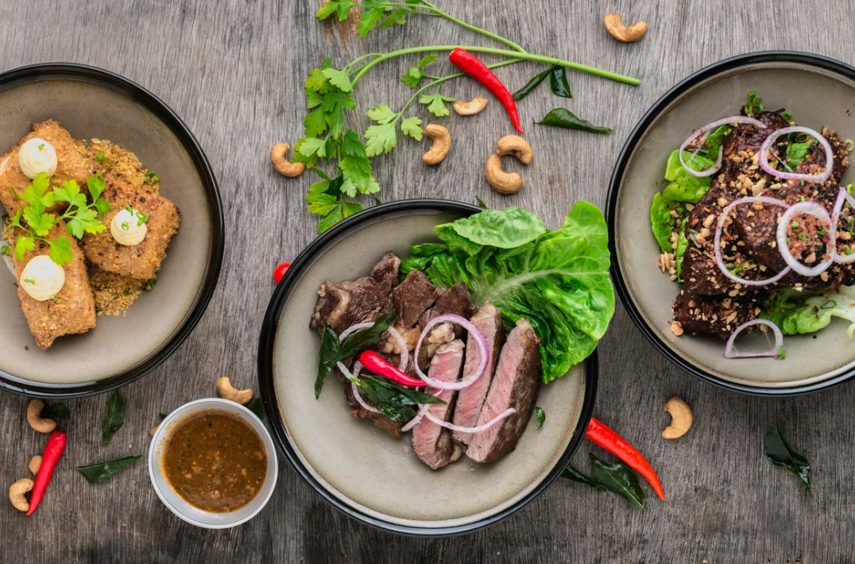 By 2050, the world's population is expected to reach over 9 billion[1]. This begs the question: how do we feed the world sustainably without overwhelming the planet's resources?
The race towards net-zero emissions has accelerated breakthroughs in green technologies introducing the world to alternative proteins, bio-based ingredients, and sustainable urban farming innovations; all of which reduce reliance on livestock and fossil resources. Amongst the recent agrifood innovations, alternative proteins from plants, microbial fermentation, and culture may be the secret sauce to achieve a more sustainable future.
The use of fermentation has its etymological roots dating back as far as 6000 B.C., yet its applications in alternative protein products, biofertilizers and bio-based nutrients are at its early stages in modern history. While there is a hunger for more research in agrifood and increased fermentation manufacturing capacity, investment in this nascent sector has only gained momentum recently, especially in China and Southeast Asia (SEA). 
In this article, we look at China and SEA's role in the agrifood evolution.
China as the world's melting pot for the future of agrifood
Several factors such as pollution, inefficient agricultural practices, climate change, geopolitical risk and the impact from Covid-19, have accelerated China's efforts to enhance food security. In China's five-year plan published in 2021[2], the agenda to strengthen the nation's self-reliance in science and technology is clear, with new policies to reform agricultural practices and machinery, animal feed production, and food manufacturing through innovation and research.
The priority for innovations in agriculture and food production was similarly echoed in a speech by President Xi at the Chinese People's Political Consultative Conference held on 7 March 2022[3], signalling a strong welcome for alternative proteins and a booster for the country's bioeconomy to reach an estimated scale of US$3.28 trillion (22 trillion yuan) by 2025[4].
"China's agricultural developments were traditionally focused on tackling food security by using more input, more labor, higher density," said Mr Ye Xiao Feng, Vice President for Agriculture & Industrial Bio Solutions of Novozymes, a global leader in biological solutions.
"The recent wave of policies demonstrates a commitment to change, through investment in technology for more efficient use of resources and higher conversion of input."
Taking a slice of the untapped fermentation manufacturing market
While there is strong interest in fermentation as an enabling technology for widespread proliferation of alternative proteins across the world, fermentation capacity remains a major bottleneck. In a report by Boston Consulting Group, analysis showed that substantial capital is still lacking to scale fermentation production to even meet current demand globally[5].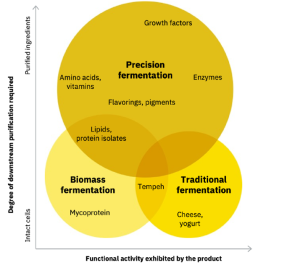 A conceptual landscape of fermentation-derived and fermentation-enabled products
Source: 2021 State of the Industry Report, Fermentation: Meat, seafood, eggs and dairy by the Good Food Institute
As a major producer of a wide spectrum of fermentation-derived end products such as organic acids, amino acids, vitamins, and industrial enzymes, China looks poised to take the lead in filling the gap for precision fermentation capacity. In 2019, China alone produced four million tons of amino acids, which equates to almost 66% of the world's production capacity. China also accounts for 77% (or 349,000 tons in capacity) of global vitamin production.
Known as "the world's factory", China has the advantage and capability to manufacture fermentation equipment, which will benefit companies who based their fermentation facilities within the country with direct access and cost savings.
"At its core, fermentation involves a tank with pH and temperature control, as well as mixing capability. Chinese fermentation equipment manufacturers are extremely price competitive, and a lot of it is exported overseas, to Thailand and other regions," said Mr Ye Xiao Feng.
Mr Hao Jian Ming of China Fermentation Industry Association added: "Generally, equipment produced in China costs just a third of those made abroad. There is a large concentration of high-quality fermentation equipment manufacturers and operators that are based locally, which can help fermentation companies to advance quickly in building a cost advantage and scaling capacity in the bioeconomy."
Rising consumer demand and a paradigm shift in China's chemical industry spur meteoric growth in bioeconomy
In addition to the new policies, two other forces of change have spurred this large potential of growth for China's bioeconomy – increased consumer demand for alternative proteins, and the dynamic change in China's chemical industry towards adopting sustainable practices.
China's market for alternative protein was estimated at US$910 million in 2018, compared to US$684 million in the U.S[6]. as reported in an article by Time magazine. A major contributor to this phenomenal potential is that alternative protein is more acceptable culturally to the Chinese and other Asian counterparts who have deep roots in 'mock meats' and plant-based substitutes as part of their diet.
The tightened environmental measures have also impacted China's colossal petrochemical synthesis industry that constituted about US$1.5 trillion of sales in 2017[7] or nearly 40% of the world's revenue from the chemical industry. The new policies opened a window of opportunity for bio innovators offering green technologies as an alternative production approach to large petrochemical companies. Adoption of new innovations and bio-based practices was accelerated for a wide range of products from packaging and antibiotics to agricultural additives when traditional manufacturing methods were disrupted.
Singapore's aspiration as Southeast Asia's agri-foodtech hub
The agrifood sector contributed US$717 billion to 2019 GDP[8] across four SEA countries – Indonesia, Thailand, Philippines and Vietnam, playing a pivotal role in SEA's economic development and delivering critical impact to its labour market. While SEA's agrifood sector performed well and demonstrated resilience even at the height of COVID-19 pandemic outbreak, the race is now on to increase productivity levels and strengthen environmental sustainability measures across the value chain. To do that, an increase in investment for new technologies and skills development is pertinent for sectoral growth.
Aligned to Singapore's 30 by 30 vision — to build its agrifood capability by producing 30% of the city-state's food needs locally and sustainably by 2030, the government allocated about US$106M[9] for research and development into agrifood and US$45 million into urban farming technologies in 2019. While global regulators had not yet established a framework for the regulation of cell-based foods, Singapore became the first country in the world to grant regulatory approval for sale of cell-based meat in 2021[10].
In the same year, Singapore Food Agency (SFA) granted a food processing license for cell-based manufacturing to a global contract development and manufacturing organization (CDMO), Esco Aster. Foodtech companies can now leverage Esco Aster's approved platform to get to market more quickly without having to invest in its own pilot plants. These developmental milestones led by Singapore not only accelerated the pace of innovation agrifood landscape but also helped attract specialised talent in this field and investment capital in this region.
EDBI, a Singapore-based global investor, has also been actively investing in disruptive innovations including agrifood technologies in the last decade. Dr Basil Lui, Managing Partner of EDBI said, "Alternative proteins have been gaining traction in recent years as consumers become more discerning and opt to consume food that is environmentally friendly and made more sustainably. There is much potential in this space as Singapore moves towards its 30-by-30 goal, and we are keen to support and create value for high potential agrifood companies such as Next Gen Foods and Nature's Fynd who are intending to expand in the region."
Mr Thomas Jonas, Founder of Nature's Fynd, a US-based biomass fermentation company, commented, "As we expand into Asia, we're finding Singapore to be an ideal base from both operational and business development standpoints, with its forward-looking regulatory environment and food security goals. There is a strong interest in Singapore to take the lead in food tech, and that is why we're also planning to build our first Asian manufacturing facility here in 2023."
With dedicated support for agrifood research, A*STAR established the Singapore Institute of Food and Biotechnology Innovation (SIFBI) in 2020 to strengthen public sector research capabilities in food science, enlivening the local agrifood ecosystem.
"SIFBI is a research institute under A*STAR that spearheads agrifood innovation in Asia by leveraging its expertise in food science and biotechnology. Focus areas are wide and include discovery, strain engineering, bioprocess and fermentation optimization, food process engineering, nutrition studies and analytics, to support the development of healthy and sustainable foods for Asia," says Dr Wong Min Hao, Strategy & Business Development Group Leader of SIFBI.
Subsequently, global investor Temasek launched the Asia Sustainable Foods Platform in 2021 that enabled the growth of food innovators in scaling sustainable food tech solutions. With the support of Singapore Economic Development Board (EDB), Asia Sustainable Foods Platform partnered with ADM, a global leader in food processing and nutrition, to enable small food tech companies to efficiently scale their fermentation innovations through a pilot launch, thus accelerating their commercial scale-up.
Why SEA's agrifood sector is poised for growth
On the bioeconomy front, Mr TC Tan, Senior Advisor of Bits x Bites observed that the growth rate for the fermentation sector will vary across different countries in SEA.
"Singapore, Indonesia and Thailand are likely to see increased demand for protein-based food and beverages, as well as fermented agricultural biomass for animal feed in the next ten years," said Mr TC Tan. "We see Singapore taking the lead in R&D and industrial production of enzymes and bioactive ingredients as compared to other countries in SEA. Building large-scale fermentation facilities for high-value ingredients require intensive capital commitment and we hope to see more support from the government bodies from other Southeast Asian countries in the coming years."
Mr John Eng, Director, Food at A*STAR Biomedical Research Council said: "SEA's agrifood sector has seen more new-generation leaders taking steps to participate in the bioeconomy and bringing their traditional food businesses to the future. Thai Wah—one of the leaders in tapioca starch in Thailand—is valorizing its starches for bioplastics. Mitr Phol Group—Asia's largest sugar producer—has set their eyes on bioplastics as well as refining biofuel."
"At the same time, agrifood MNCs are having a new look at their SEA supply chain for value-creation opportunities. For example, Dole is using its fruit side-streams to develop enzymes and other specialty ingredients for pharma, nutraceuticals, and F&B markets. We expect similar activities to grow in SEA as the global demand for bio-based ingredients soars."
While infrastructure and fermentation capacity may pose bottlenecks, China and SEA will be well-positioned to help these novel ingredient production plants cross the cost parity line to reach the mass markets in the next decade. If China is the melting pot for agrifood, SEA is the catalyst for growth – a symbiotic relationship between these two regions that will advance agrifood evolution to its next phase.
Investment in agrifood sector is a marathon and not a sprint
Strong public market performance has always had a domino effect on increased capital investments. In 2021, over 50 investors in China crossed sector lines to back 40 biotech agrifood investments. More sector-targeted funds are being formed, for example, China's first synbio fund Xingbo Shenghui[11], which was established to invest in companies that advance agricultural technologies and agrifood applications.
"China's technology is entering its prime with more successful IPOs, leading to more funding for companies across various stages of growth. When key players – government, research, business owners, manufacturers and investors in the ecosystem are aligned to propel an objective, we see strong developments. This is a force to be reckoned with," said Mr Ye Xiao Feng.
Biotech companies in China should continue to flourish and create a more vibrant ecosystem in the coming years. However, funding, developing and growing a new sector is a marathon and not a sprint.
COVID-19 has swept the world and disrupted many lives and livelihoods, but it is also an age of unprecedented innovation. The pandemic has made the world reassess what the future holds and triggered a pressing need for resilience and diversification. Yet deep technologies like agri-food tech often require longer gestation periods and larger investments.
From supply chain aspects to risk capital to regulatory policies, elements in the agrifood ecosystem are coming together. There has never been a timelier moment to invent and invest than now, with both Singapore and China playing an increasingly important role in advancing agrifood innovation.
___________________
This article was adapted from Bits x Bites' article titled "A Transition Underway: China and Southeast Asia's Rise in the Agrifood Biotechnology Revolution".
[1] IISD, World Population to Reach 9.9 Billion by 2050, 6 August 2020
[2] China National Development and Reform Commission, 14th Five-Year Plan aligned with Vision 2035, 23 March 2021
[3] Hua Xia of Xinhua Daily, Xi visits CPPCC members in sectors of agriculture, welfare and social security, 7 March 2022
[4] Global Times, China maps out measures to develop $3.28t bioeconomy by 2025, 10 May 2022
[5] BGC, Food for Thought: The Protein Transformation, 24 March 2021
[6] Charlie Campbell for Time Magazine, How China Could Change the World by Taking Meat Off the Menu, 22 January 2021
[7] McKinsey & Co, China's chemical industry: New strategies for a new era, 20 March 2019
[8] Food Industry Asia & Oxford Economics, The economic impact of the agri-food sector in Southeast Asia, 2021
[9] Reuters, From sky labs to lab-grown shrimp, Singapore eyes food future, 30 May 2019
[10] Amelia Lucas for CNBC, Singapore issues first regulatory approval for lab-grown meat to Eat Just, 1 December 2020
[11] Baidu Finance, 中科院深圳先进技术研究院与DeepTech 发起首支合成生物产业基金, 12 November 2020